When it comes to sports goods, such as sports shoes, clothes, apparel, and even sports equipment, one of the most popular places would be in the Royal Sporting House of Singapore. It has a wide selection of sports goods for almost any kind of sport and outdoor activity. It was established in 1977 and started its venture officially in Singapore. Since then, it has grown to be a popular marketplace regarding distribution and retailing for more than 70 well-known brands or names across the globe. It presents a wide range of products and brands such as Nike, Reebok, Nautica, Lacoste, The Social Foot, and many others. It has established reliability and credibility through its decades of unprecedented experience as well as high-quality services. Currently, it markets four different categories of products: Active Lifestyle, Sports, Golf, and Fashion.
It started as an Asian company that markets sports goods, products, and services. However, now it has expanded as a global company as it was acquired recently in 2020 by a company based in Dubai in the form of MGM (Gulf Marketing Group).
While it is absolutely a popular sports goods shopping place in Singapore, it is also quite famous globally, and many foreigners are simply visiting the country to purchase it. So, what makes Royal Sporting House Singapore so good that other sports goods retailers and distributors can't merely top off? Here are the things you need to know.
Royal Sporting House Singapore: A Brief History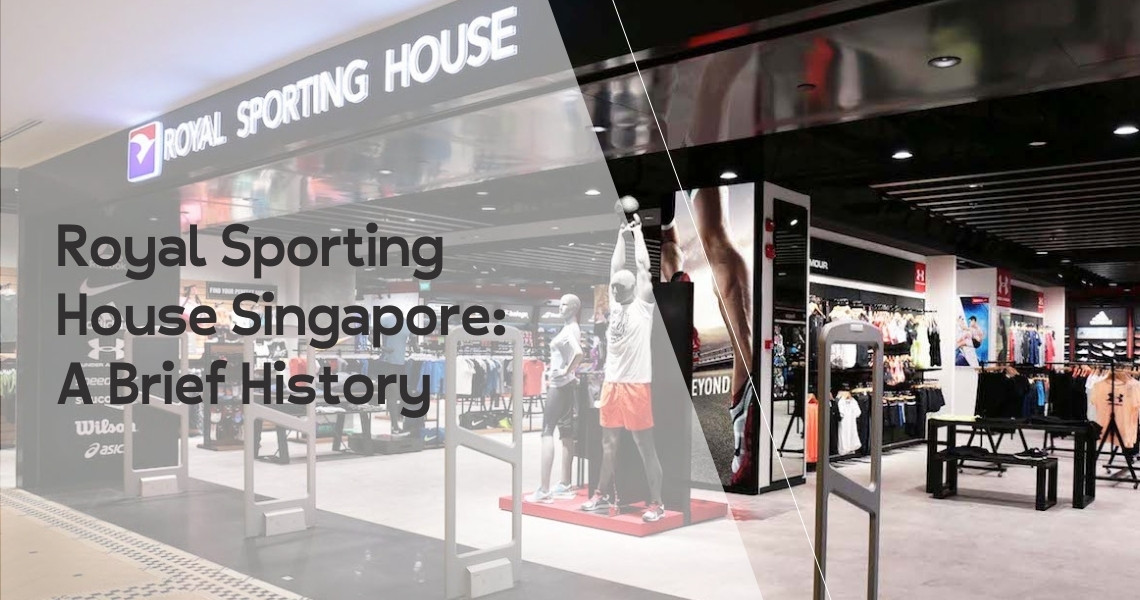 Sports goods enthusiasts, businesses, and retailers are aware of the name Roya Sporting House in Singapore. The company started in 1935 in Jakarta, Indonesia – founded by M.S Gill, and was later adapted and established in Singapore in the year 1977 with the name Royal Sporting House. The Gill family noticed that Singapore is a beautiful place to source and buy quality goods to add to their market. Thus they deemed it necessary to have a base in Singapore. The first son – Singh Gill, managed the first retail outlet in Singapore located at High Street Center that opened to the public in 1975. Then in 1979, he established his outlet in Lucky Plaza shopping center, which is now called popularly Royal Sporting House to this date.
In the early 1980s, when fitness was pretty much-hyped, and almost all people wanted to stay fit and healthy through aerobics and other physical exercise and activities, the shop started to flourish due to its numerous sports and fitness goods selections. With its increased demand and market, the shop expanded and has established more outlets at Centrepoint, Wisma Atria, Changi Airport, and on the Far East Plaza. Adding to selling sports and fitness goods, they also considered adding services and other consumer goods and markets.
In 1995 came the birth of the new concept by the company, which was called "Why Pay More?" which focuses on a self-service market system that allows consumers to service themselves through a range of tools and equipment and other platforms. Also, the company employed disabled people to work as cashiers with the initiative to strengthen and promote employment opportunities for disabled people.
It was also in the 1990s when the company began its venture in the manufacturing of its products. It came to agreements with famous names such as Reebok, Spalding, Speedo, and many other brands, which allowed them to manufacture their products in a factory within Malaysia. Since then, it has always been about improvements, expansion, and more profits for the company.
Achievements and awards
Royal Sports House is among the most decorated multi-brand sports retailer globally. While it had a colorful history and story, it also continues to earn prestigious awards and achievements for its top-notch services. Among the triumphs and awards harvested by RSH include the Singapore Business Enterprise Award, which DHL and The Business Times won in 1993. Another is the Sports Retailer of the Year award which Sports International handed in 1994.
The following year, the company was awarded the honor during the Inaugural Enterprise 50 Awards to recognize the local companies that support the development of the country's economy. But, again, it was simply among the best companies that had the highest contribution towards the country's financial growth. And then, from 2002 to 2004, the company bagged the Retail Courtesy Gold award and the Singapore Retail Association award. It also showed that they were among the top 10 companies in the Singapore Indian Entrepreneurs in 2004.
As the years passed, the company earned more and more awards.
The Acquisition
Just recently, in 2020, the company was then acquired by GMG (Gulf Marketing Group – a member of the Al-Futtaim Group of companies) in Dubai not because the company was already falling apart but because it had to grow further. And the best way to support its rapid growth is for a well-established global retailer company such as GMG to manage it. GMG hosts more than 550 sports goods retail outlets around the globe, coming in 57 cities from 12 countries. With its acquisition, Royal Sports House goods, mainly composed of goods coming from Asia, are now introduced to the Middle East and the other parts of the globe, such as Egypt. Furthermore, RHS will now introduce products and goods coming from Dubai and the middle east, making the varieties of goods available more massive than before.
Furthermore, the company's acquisition came about as a response to the increasing demand of people purchasing goods and products online due to the pandemic. Having to work with a company such as Al-Futtaim group of companies that have established its experience and presence online can further improve and promote the growth of Royal Sporting House. Although a Dubai-based company now acquires it, it continues to operate from its hundreds of outlets worldwide.